by Sheree K. Nielsen
I suppose my love of coffee began as a teenager. On a camping trip, rummaging through the RV's kitchen cabinets, I searched for tea bags.
"Where's the tea?!" I demanded.
"All we have is coffee", my friend Sherry C replied.
Gathered around a crackling fire, in the company of new friends, we chatted and sipped coffee from enamelware mugs the color of the midnight sky. The aroma teased my nostrils. It tasted good.
We Became Connected by Coffee
At age 22, diagnosed with a serious medical condition, my doctor suggested I dial back my coffee consumption. I'd cheat on occasion, but for the most part, I cut out coffee for the next sixteen years.
That is, until I met my second husband, who could easily consume four to five cups of java within a few hours. In addition to a coffee maker, a new shiny espresso machine rested regally on his kitchen countertop.
May I make you a cappuccino?" Russell asked on one of our first dates.
"Yes, please."
In no time, we became connected by coffee. He wasn't a bad kisser, either.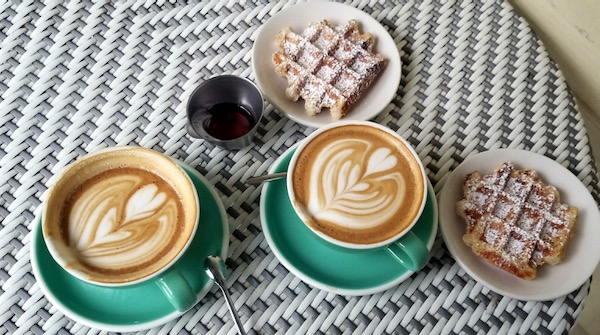 Finding the Best Coffee Spot in Town
When a coffeehouse opened a half mile from our house, we were elated. On weekends we'd flock to Picasso's whose credo was "the art of coffee." Unique art filled the walls of the funky café, conversation flowed, and lattes were divine. Picassos was the place to be.
Decades later, while strolling with twenty-something friends on historic Main Street St. Charles, we headed to Picasso's. The line of people waiting to enter the café spilled onto the sidewalk.
"What do we do now?"
"Let's go to VB's in Cottleville!"
"What's VB's?'
"It's ONLY the best kept secret in town."
Nearing our destination, we motored down quaint streets and steered our vehicle into a parking lot. An unassuming buttercream-hued ranch building came into view. Stepping inside, the atmosphere was inviting – baristas smiled, twinkling lights hung from the rafters, and weathered greige tables with mismatched chairs filled the cafe. In addition to coffee selections, a glass case of homemade ice creams enticed as well as a selection of artisanal chocolates.
I was hooked.
VB's, now Upshot Coffee, became my retreat to create, write…be inspired. I planned, and edited all my books there – from inception to publication. VB's felt like home.
As a Travel Writer, I Always Searched for Nearby Coffeehouses

I worked as a travel writer for AAA Southern and Midwest Traveler for 7 years, and when on assignment, I'd always search for a nearby coffeehouse or cafe.
On a trip to Sandals Emerald Bay, Exuma, hubby and I discovered their coffeehouse, Café De Paris, opened at 6 a.m.  However, the early morning hours were just way too early for us to get dressed, but we needed our cappuccinos.
So, before breakfast was delivered to our room, we asked our butler (part of the trip's perks) to swing by the café and order us two cappuccinos for breakfast. The best part was seeing that lovely frothy cappuccino first thing in the morning, and still being in our pajamas.
On every travel assignment, we'd search out the best coffeehouses.  It seemed like a regular fun routine, that the tradition continued with every trip.
How to Find the Best Coffee Shops When Traveling
Today, when planning vacations, I check to ensure there's a top-rated coffeehouse nearby. Typically, in a big city, you have your choice of at least seven or so cafes.
So how do you choose?
First, I check to see if the coffeehouse has a website. Next, I scan the site to see if they are a local roaster, or they use a local roaster.  If the answer is yes, their coffee is going to be that much better!
Next, I browse the photos of lattes and cappuccinos. If there is artfulness to the design, the baristas probably are pretty skilled at creating coffee beverages. I also check the atmosphere of the café. If there are big, beautiful espresso machines in the pics and bags of local coffee, it's a win win.
Then I calculate the distance to a nearby university from the coffeehouse. I've had really good luck because college students tend to be regulars, and they know a good cup of coffee.
Finally, I check TripAdvisor or google for reviews. I'm looking for reviews from coffee lovers that frequent coffeehouses – they typically know the best cup of coffee in the area.
I Had to Take a Break from Coffee
In November 2018, my sense of taste hit the pause button, after I began chemotherapy for Waldenstrom's macroglobulinemia. After each treatment, impaired taste lasted for up to ten days – wiping out my craving for coffee.
A month later, heading home the in-laws, I longed for a good latte. In the pouring rain, my husband navigated the Chevy Equinox fifteen minutes off course, to the best coffee house in Clarksville, Tennessee. Locally owned, Plumb Line Coffee was an artisanal café near Peay State University. Stepping inside, I perused the board of coffee offerings, and ordered a vanilla latte. With the first sip, I was infatuated – so rich and velvety. My taste buds were back!
How My Love of Coffee Led to a Poetry Book
As you can see, visiting coffeehouses became a thing with me, as well as posting photos of the smooth and velvety beverages. My friends kept saying, "You need to do a coffee book."
I didn't want to do create any coffee book, I wanted to compile a book of photography that partnered with lyrical poetry. I scanned hundreds and hundreds of my photos. As I began to put words to the pictures, Coffee Coma evolved.
There are four sections – Composition (something for the baristas), Smile (poems that make you laugh or smile about coffee), Love (the loves of my life and coffee), and Life (experiences on this journey through life with a cup of coffee in hand).
In addition, there an index of my favorite coffeehouses representing thirteen states and two locations in the Caribbean.
Anyway, I hope you enjoy the book. Here are some tips and coffee lingo from me.
Coffee Lingo to Know

While researching my book, I also studied coffee lingo. Here is some coffee jargon that helped me better understand the entire process.
Roast is the heating process that brings out the flavor and aroma in green coffee beans – how hot and long the beans have been roasted. The levels of roasting are mild, medium and dark roast.
First Crack is the moment when coffee beans begin to approach edibility. Coffee will go through two 'cracks' when roasting. Light to medium will finish somewhere between them.
Bloom is when coffee grounds come in contact with hot water. They release carbon dioxide and often bubble and expand. This typically happens in a pour over.
Pour Over gives you complete control in the pouring style and the temperature of water in your coffee. Longer brewing process with a more intricate flavor extraction. 
Grind is the coarseness to which the coffee is ground, from coarse to fine. They are many different types of grinders to choose from.
Chemistry
Caffeine –
Is it
your molecular compatibility
that makes me
want you?
You stimulate me
without asking
for a
commitment.
I'm
addicted
to your
adrenaline rush.
My heart beats
faster
when you're
near.
And just like
the honeybee,
lilac
smells sweeter
after
I've imbibed
in your
velvety nectar.
* * *
---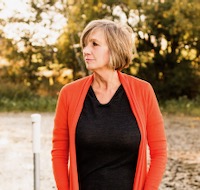 Sheree K. Nielsen believes that every picture tells a story, combining her love of photography and writing with colorful visual descriptions and healing messages found in her poetry, coffee table books, essay collections, and children's books. She finds inspiration in travel, nature, pets, and food…especially coffee! As a Waldenstrom's macroglobulinemia lymphoma survivor, she believes in cherishing every minute of life.
Coffee Coma – poems & photos about her love affair & life with coffee, was published August 10 by Shanti Arts Publishing. The book takes you on a journey through life with coffee. No matter the weather, situation or location, coffee is there like a good friend.
Sheree is Author/Photographer/Poet of 2019 Royal Dragonfly Book Award Winner, Mondays in October (love songs for the beach) with First Place in Poetry, Fine Art and Photography, and Honorable Mention for Coffee Table Books. She is also the 2015 Da Vinci Eye Award Winner for Folly Beach Dances (inspired by the sea and her lymphoma journey), Chanticleer Little Peeps First Place Category Winner and Montaigne Medal Finalist in 2019 Midnight the One-Eyed Cat (a picture book: coauthor), and Chanticleer 2019 Finalist Ocean Rhythms Kindred Spirits – An Emerson-Inspired Essay Collection on Travel, Nature, Family and Pets.
Her other works are well represented in many travel magazines and publications.
When not writing about her love for coffee in Coffee Coma, she's discovering new beaches and cafes with her goofy dogs and patient husband. Five content cats complete her family.
For more information on Sheree and her work, please see her website and Amazon author page, and connect with her on Facebook, Twitter, and Instagram.
---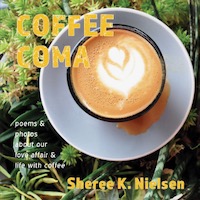 Coffee Coma: Like a good friend, coffee is always around no matter the weather, situation or location.
Come along with Sheree K. Nielsen as she shares her love affair, and life with coffee, through poems and photographs in Coffee Coma.
Whether it's latte with friends at a café, a cappuccino on the front porch during a misty rain, or admiring sunrise on the beach with mug in hand, Sheree will take readers on a journey of how coffee positively affects our lives.
Coffee Coma, is thoughtfully divided into four sections – Composition, Smile, Love and Life.
As an added bonus, Sheree's included an index of her favorite cafes around the country. With her husband and canine kids by her side, she's on a quest to find the next best cup of coffee.
Available at